The Clava Cairns date from before 2,000 BC. There are three tall mounds of stones, each of which is surrounded by a stone circle, and they were originally burial chambers. They're in the middle of a field with a low fence around them and a cow on guard--other than that, you can go and wander around as you like.
My favorite thing about the Cairns, though, comes from the Culloden guide book I bought. The cairns are also owned by the National Trust, and apparently they're afraid there will be some confusion. Here's the description they give: "These ancient ritual monuments, about a mile from the battlefield on the south side of the River Nairn, are not connected with the '45 [Uprising]." I'm so glad they cleared that up--I thought maybe the '45 got a *really* early start. <g>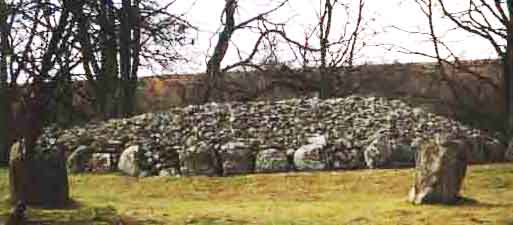 This is the first cairn you come to in the field. The next shot shows you how tall it is…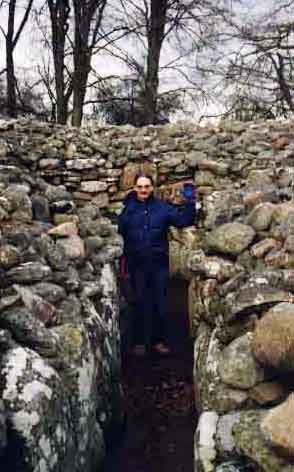 Dave's 5'11", and he's standing in the center of the cairn shown above. This was the tallest of the three, and it's impressive that these stones have stayed piled for almost 4 millennia.
Somebody paid attention to detail.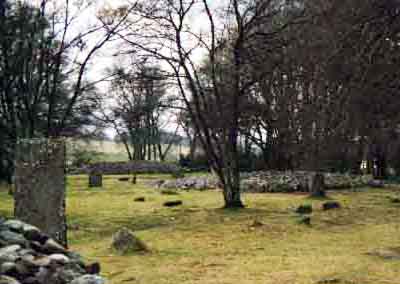 The other two cairns as seen from the first one.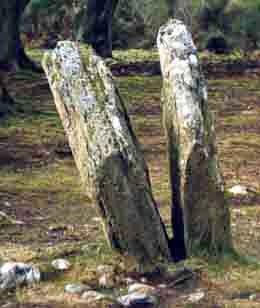 This is from the stone circle around one of the cairns.
It's interesting to wonder what force of nature split this one and left the rest intact.